Shrewsbury Sno-Birds VAST Snowmobile Club Membership: 

TMA's for the 2017/2018 Season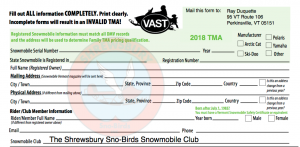 This year's VAST Snowmobile Club Membership TMA is based on VAST's form. Please download with the big link below and fill out the first page and send with your payment to Ray Duquette. Keep the second page for your reference. Our TMA is in PDF format, readable with the free Adobe Reader.
Please print, fill out and mail to:
Ray Duquette
95 VT Route 106
Perkinsville, VT. 05151
Remember to include payment and the required documents.
The Fine Print
Below we have printed the fine print from the TMA so it is more readable. By signing the TMA, you are signing your name to this:
In order to protect landowners who make their lands available for recreational uses by members of the public, the State of Vermont has passed legislation limiting the liability of those landowners to members of the public who use the land for recreational purposes. This includes the use of property for snowmobiling. Because a landowner has made land available without consideration for recreational purposes, there is no assurance that the land is safe for recreational uses, nor does it create any duty on a landowner of land to inspect the land to discover dangerous conditions. Thus you as a member of VAST when using any of the trails which constitute the Statewide Snowmobile Trail System (SSTS) use these trails knowing that you have no assurance that the trails are safe or have been inspected. You must take care to use them with caution for yourself, and due regard for your safety and that of others using the Trails. You are deemed to have assumed all of the risks attendant, the land on which the (SSTS) is laid out and all of the risks inherent in snowmobiling. As a member of a VAST snowmobile club, I the undersigned, owner of the snowmobile described above, declare that I am liable for the use of a VAST trail as part of the (SSTS) in conformance with the snowmobile laws and rules of the State of Vermont.

Without limiting the generality of the foregoing, I declare that I am well aware and accept that snowmobiling is an inherently risky activity. As an off-road experience, trail conditions may change without warning and trail signing is not a legal requirement. When signage is provided, it is used for directional purposes only. I assume all risk of personal injury, death or property loss resulting from any cause whatsoever, including, but not limited to the risks, dangers and hazards of snowmobiling. VAST shall not be liable for any such personal injury, death or property loss and I waive all claims with respect thereto. I also waive, release and forever discharge VAST and any of its directors, officers, agents, servants and successors from any and all claims for loss, damages, costs, contributions, indemnification or any other instance whatsoever on account of, or in any way growing out of all personal injuries, death or property damage of any nature arising out of the use of the (SSTS), unless the same is the result of willful or wanton misconduct. I also pledge that I will inform any person to whom I would lend or rent the snowmobile that I own, of the risks mentioned above and will advise them that VAST, club or the landowner of the trail does not assume any responsibility for the damages they could undergo while using a VAST trail.
Safety Classes
The VAST site states:
Anyone born after July 1, 1983, and who is 12 years of age and older, must complete and pass a six-hour safety course.

The Shrewsbury Sno-Birds offers the safety course locally. Lunch is provided by the Sno-Birds at no cost. The contact number is 492-3782.
Fund Raiser Card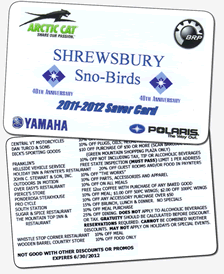 As a benefit to our members, we offer a fund raiser card (better known as Saver Card), a great success in years past. The price of the card for 2012/2013 is $10, and can purchased at locations listed on our blog. This image is our new 2012-2013 card.
By presenting the card to participating merchants, club members can enjoy significant discounts. Below is a table listing merchants who have generously sponsored our club by allowing card holders the discount as listed. Funds raised from the fund raiser card are used to cover club expenses as well as our annual donation to an individual or organization. Please support our sponsors as they are a great help to the club.
| Supporting Merchant | Saver Card Discount |
| --- | --- |
| CENTRAL VERMONT MOTORCYCLES | 10% OFF PARTS & ACCESSORIES |
| DAN TURCO & SONS | 10% OFF PLUGS, OILS, HELMETS, SUITS, GLOVES & BOOTS. |
| FRANKLIN'S | 10% OFF – 1 ENTRÉE |
| HILLSIDE VEHICLE SERVICE | FREE STATE INSPECTION (MUST PASS). LIMIT 1 PER ADDRESS. |
| JOHN C. STEWART & SON, INC. | 10% OFF "THE WORKS" |
| OUTDOORS IN MOTION | 10% OFF PARTS, ACCESSORIES AND APPAREL |
| OVER EASY'S RESTAURANT | 10% OFF ON ALL MEALS |
| PIERCE'S STORE | FREE 12oz COFFEE WITH PURCHASE OF A BAKED GOOD |
| PONDEROSA STEAKHOUSE | 10% OFF MEAL; $1.00 OFF 50PC WINGS; $2.00 OFF 100PC WINGS |
| PRO CYCLE | 10% OFF ANY ACCESSORY PURCHASE OVER $50.00 |
| SABBY'S PASTA HOUSE | 10% OFF MEAL – NOT INCLUDING TAX, TIP OR ALCOHOLIC BEVERAGES |
| SOUTH STATION | 15% OFF BRUNCH, LUNCH & DINNER. NO SPECIALS |
| SUGAR & SPICE RESTAURANT | 10% OFF MEAL PURCHASE |
| WHISTLE STOP CORNER RESTAURANT | 10% OFF MEAL |
| WOODEN BARREL COUNTRY STORE | 10% OFF FOOD ONLY |