Skiing the Sno-Birds Upgraded East Access Trail at EveryTrail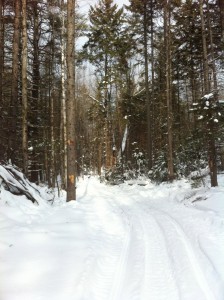 I tracked the newly renovated feed trail that provides access to the Upper Cold River Road VAST Parking Lot. The new GPS data is seen above and has been used to update the Google Earth GPS data. Open Google Earth on your computer to view the changes. (See our Trails and Maps page for more information.) I've updated the EveryTrail map of the trail system too. The old GPS route was only approximate and showed the trail going through a field off Plumbly Road but the trail actually skits the field.
For skis the trail was a bit rough but not so for snowmobiles. I was surprised how little soil was exposed. Considering there has been only one snow fall and construction equipment was working there as recently as this month, it was really very good shape. There were a couple of wet spots to watch for but they are expected early season hazards.